Innovated Barrel hoop Lever Lock Ring for 5-Gallon Steel Pail Bucket
Lock Rings for Steel Pail
---
Message
Feature
Workflow
BOM
Technical Parameter
YouTube Video
PDF Download
Innovated Barrel hoop Lever Lock Ring for 5-Gallon Steel Pail Bucket
Open head steel drums, steel pails and metal buckets employ a ring or band of some sort that is fixed around the the cover and secures the cover to the body of the drum or pail. steel pail with lug cover and dish cover and ring.
Before we jump into ring- type closures it is important to note that open top metal buckets and steel pails have an additional closure type known as a lug cover. Lug covers have lugs around the outside of the cover which are crimped down using a lug crimper. This type of closure requires no additional ring but it does require a crimping tool. Crimping tools come in several varieties and price ranges and will likely be the subject of a future article.
All rings require some sort of mechanism to draw the band tight to secure the cover firmly to the body of the drum, barrel, pail or bucket. Lever lock rings achieve this using a lever mechanism that draws the band tight as it snaps against the ring the it's closed position. A slot is often provided to slide a tab or tamper evident seal which acts as pin to prevent the lever from opening up in transport.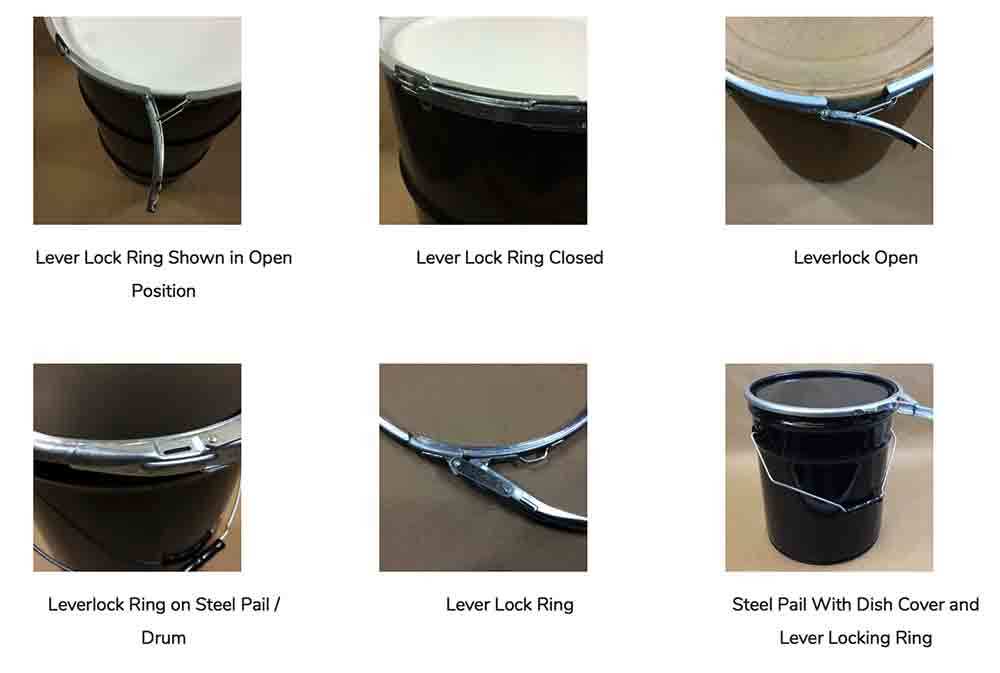 Surface Treatment: Polish
Lever Lock Ring is a ring closure for 5 Gallon open head steel containers. When closed, the ring overlaps to ensure sealing power completely encircles the lid and eliminating gaps. The unique design is as dependable as a bolt ring, and yet much easier to apply and remove over and over again. Ring closure helps seal open-head drums and provides convenient access to drum contents. Can be installed and opened without tools.