High-position Palletizing Machine for Empty Food Can/beverage Can
L15,000x W3,000 x H3,900mm
---
High-profile Inline High Speed Beverage Can Line Palletizing System.
Message
Feature
Workflow
BOM
Technical Parameter
YouTube Video
PDF Download
High-position Palletizing Machine for Empty Food Can/beverage Can
HFPT series run fully automatically for palletizing or de-palletizing by using pushing and lifting mechanism. With optional configuration, this HFPT series can achieve the function of auto layer pad, pallet dispenser and pallet out feed. By connecting to inline stripper and wrapper, it saves more manpower and increases production efficiency.
Model
HFPT
Operation
Automatic
Capacity
110-1,600cpm
(Pallet Size L1,200mm x W1,000mm)
Palletizing Type
Pushing & Elevating
Pallet Board Auto Feeder
Built-in
Programmed PLC Device
Built-in
Applicable Products
Various Metal Packing Container,
Plastic Container and Glass Container
Compressed Air
0.6MPa
Power Supply
Three Phase AC 380V 50Hz
Total Power
11kW
Interface
Touch Screen - HMI
Control
PLC Controller
Motor
Servo and Permanent Magnet Motor
Drive
Variable Frequency Inverter (VFD)
Conveyor
Scratch Free Chain Boards
Overall Dimension
L15,000 x W3,000 x H3,900(mm)
Machine Weight
4,000kg
Cans Per Layer
Cans Per Pallet
Net Weight/Pallet
Gross Weight/pallet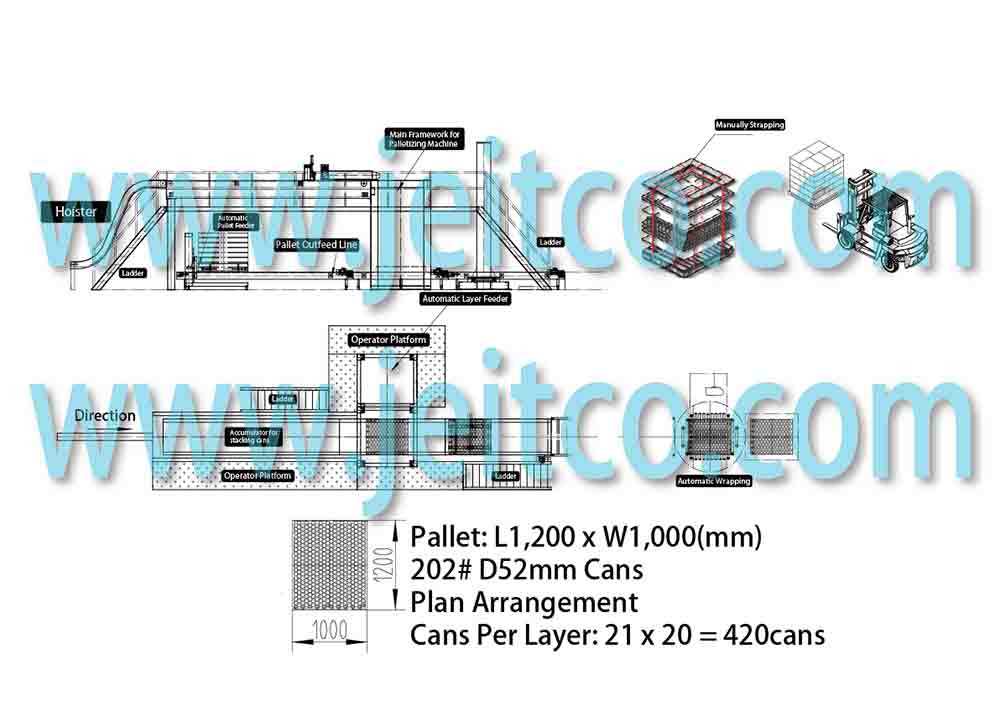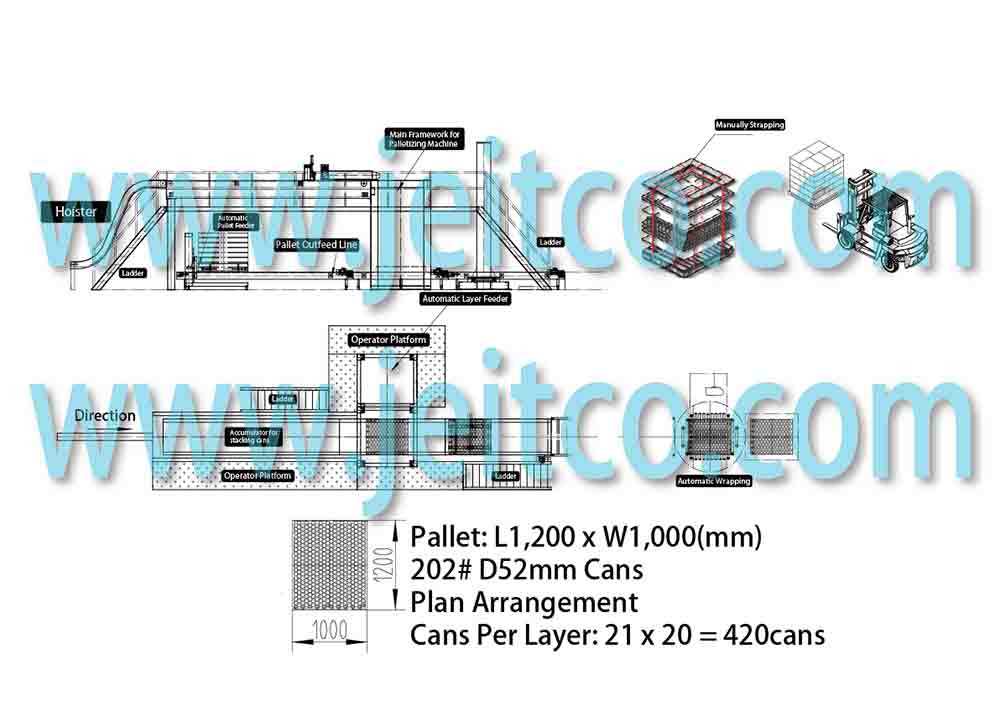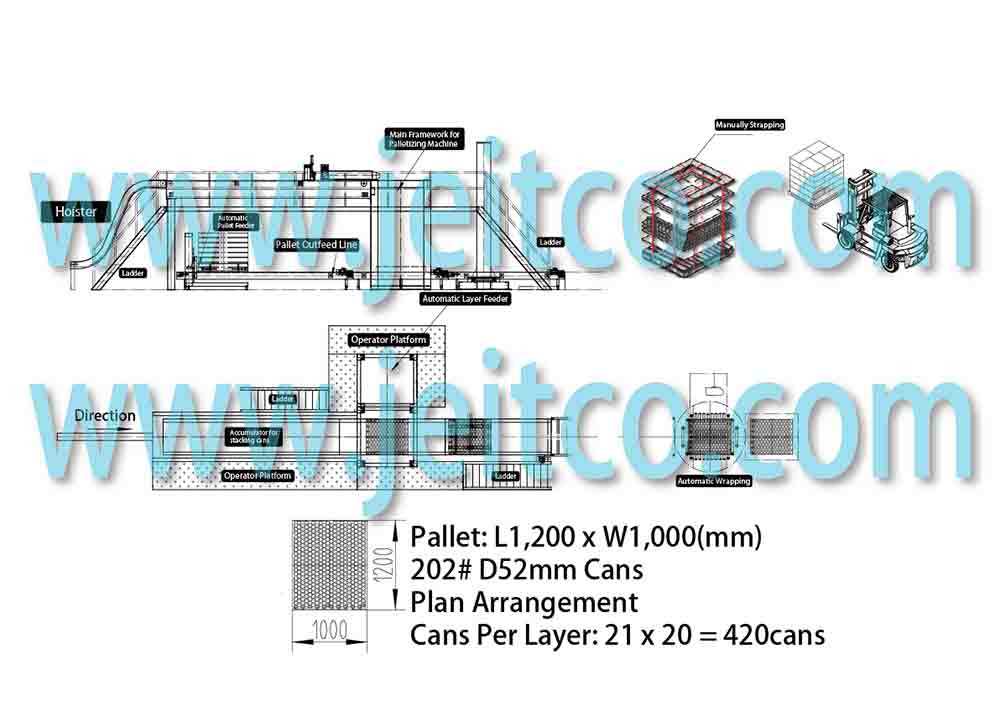 Model
HFPT
Operation
Automatic
Capacity
110-1,600cpm
(Pallet Size L1,200mm x W1,000mm)
Palletizing Type
Pushing & Elevating
Pallet Board Auto Feeder
Built-in
Programmed PLC Device
Built-in
Applicable Products
Various Metal Packing Container,
Plastic Container and Glass Container
Compressed Air
0.6MPa
Power Supply
Three Phase AC 380V 50Hz
Total Power
11kW
Interface
Touch Screen - HMI
Control
PLC Controller
Motor
Servo and Permanent Magnet Motor
Drive
Variable Frequency Inverter (VFD)
Conveyor
Scratch Free Chain Boards
Overall Dimension
L15,000 x W3,000 x H3,900(mm)
Machine Weight
4,000kg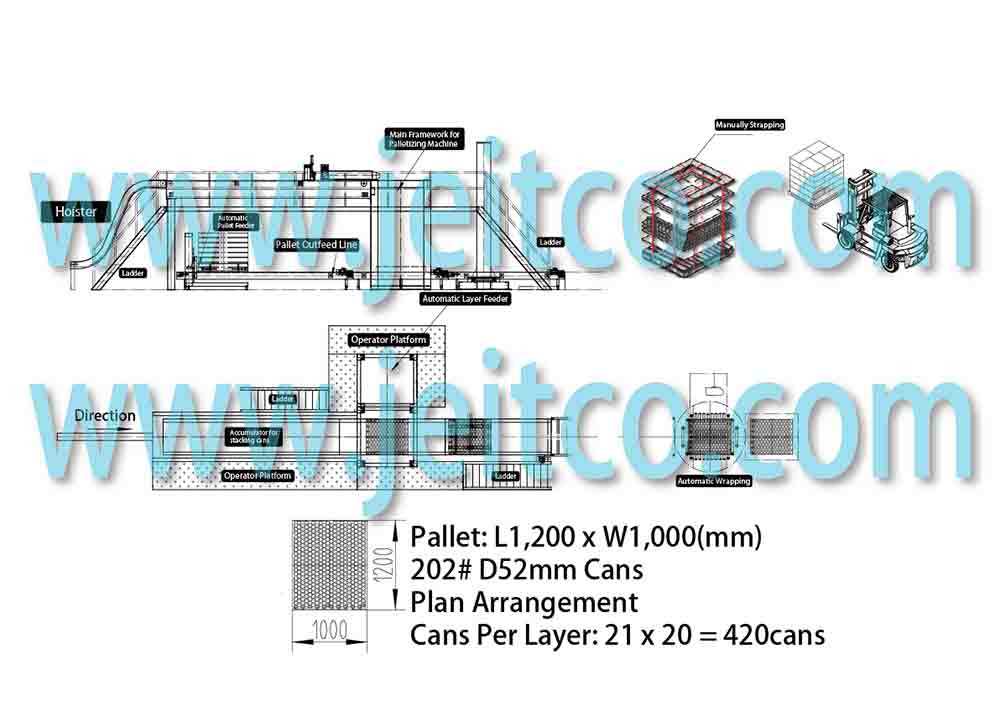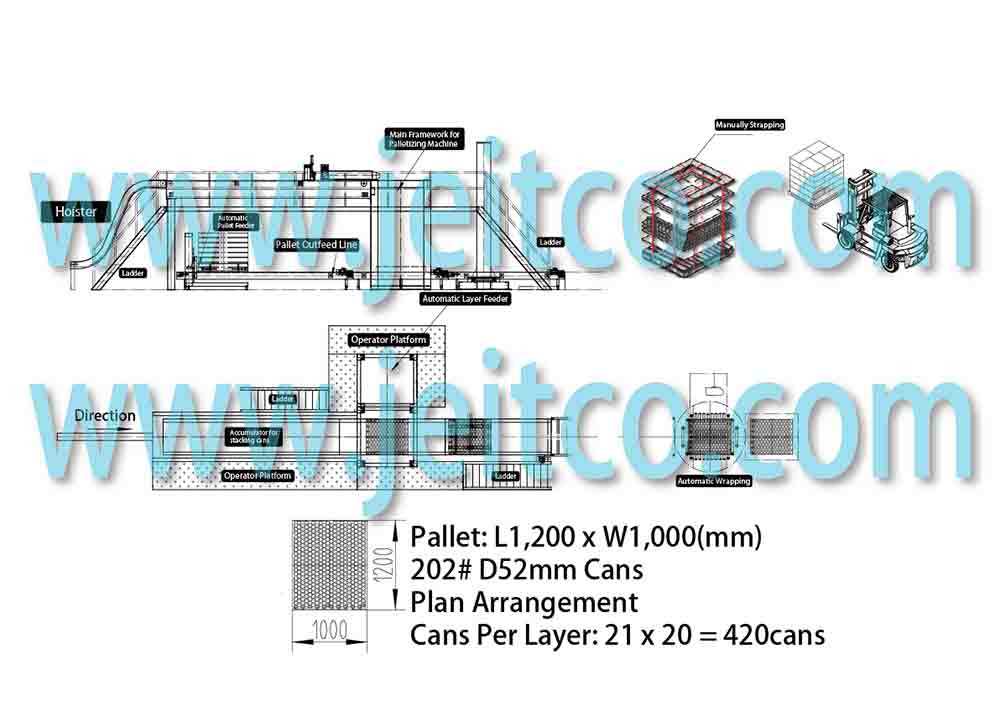 Model
HFPT
Operation
Automatic
Capacity
110-1,600cpm
(Pallet Size L1,200mm x W1,000mm)
Palletizing Type
Pushing & Elevating
Pallet Board Auto Feeder
Built-in
Programmed PLC Device
Built-in
Applicable Products
Various Metal Packing Container,
Plastic Container and Glass Container
Compressed Air
0.6MPa
Power Supply
Three Phase AC 380V 50Hz
Total Power
11kW
Interface
Touch Screen - HMI
Control
PLC Controller
Motor
Servo and Permanent Magnet Motor
Drive
Variable Frequency Inverter (VFD)
Conveyor
Scratch Free Chain Boards
Overall Dimension
L15,000 x W3,000 x H3,900(mm)
Machine Weight
4,000kg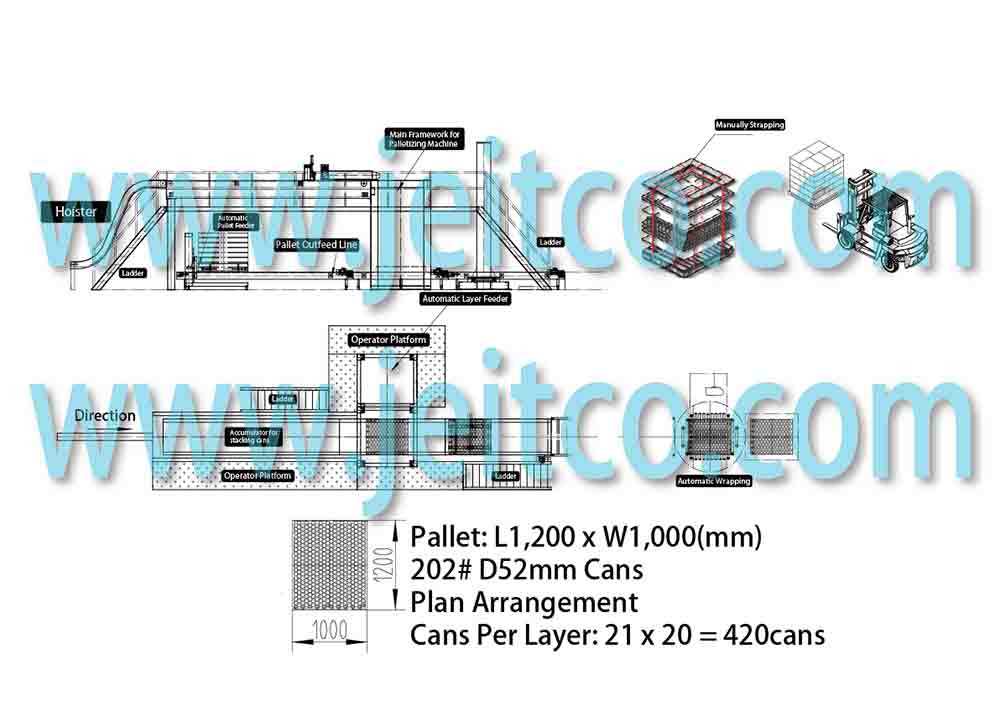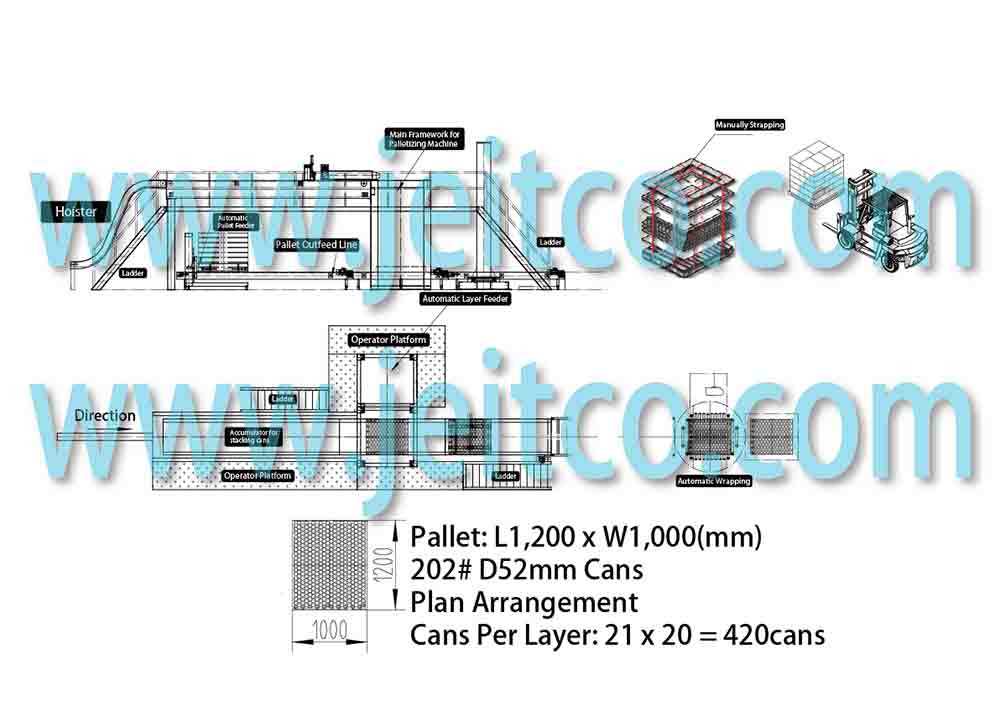 Model
HFPT
Operation
Automatic
Capacity
110-1,600cpm
(Pallet Size L1,200mm x W1,000mm)
Palletizing Type
Pushing & Elevating
Pallet Board Auto Feeder
Built-in
Programmed PLC Device
Built-in
Applicable Products
Various Metal Packing Container,
Plastic Container and Glass Container
Compressed Air
0.6MPa
Power Supply
Three Phase AC 380V 50Hz
Total Power
11kW
Interface
Touch Screen - HMI
Control
PLC Controller
Motor
Servo and Permanent Magnet Motor
Drive
Variable Frequency Inverter (VFD)
Conveyor
Scratch Free Chain Boards
Overall Dimension
L15,000 x W3,000 x H3,900(mm)
Machine Weight
4,000kg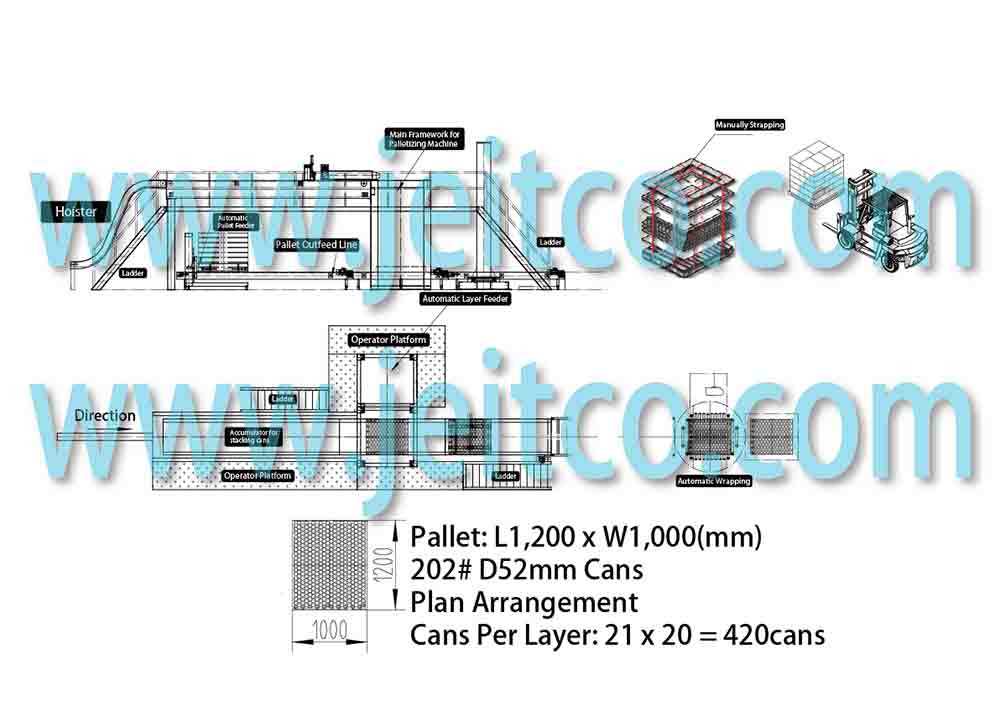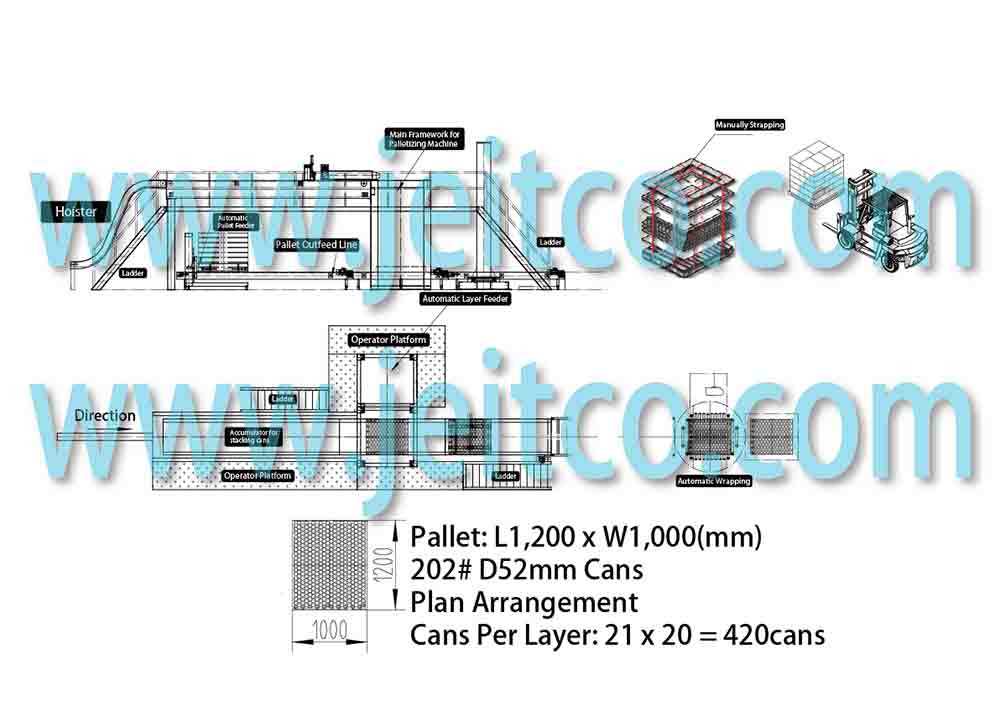 Model
HFPT
Operation
Automatic
Capacity
110-1,600cpm
(Pallet Size L1,200mm x W1,000mm)
Palletizing Type
Pushing & Elevating
Pallet Board Auto Feeder
Built-in
Programmed PLC Device
Built-in
Applicable Products
Various Metal Packing Container,
Plastic Container and Glass Container
Compressed Air
0.6MPa
Power Supply
Three Phase AC 380V 50Hz
Total Power
11kW
Interface
Touch Screen - HMI
Control
PLC Controller
Motor
Servo and Permanent Magnet Motor
Drive
Variable Frequency Inverter (VFD)
Conveyor
Scratch Free Chain Boards
Overall Dimension
L15,000 x W3,000 x H3,900(mm)
Machine Weight
4,000kg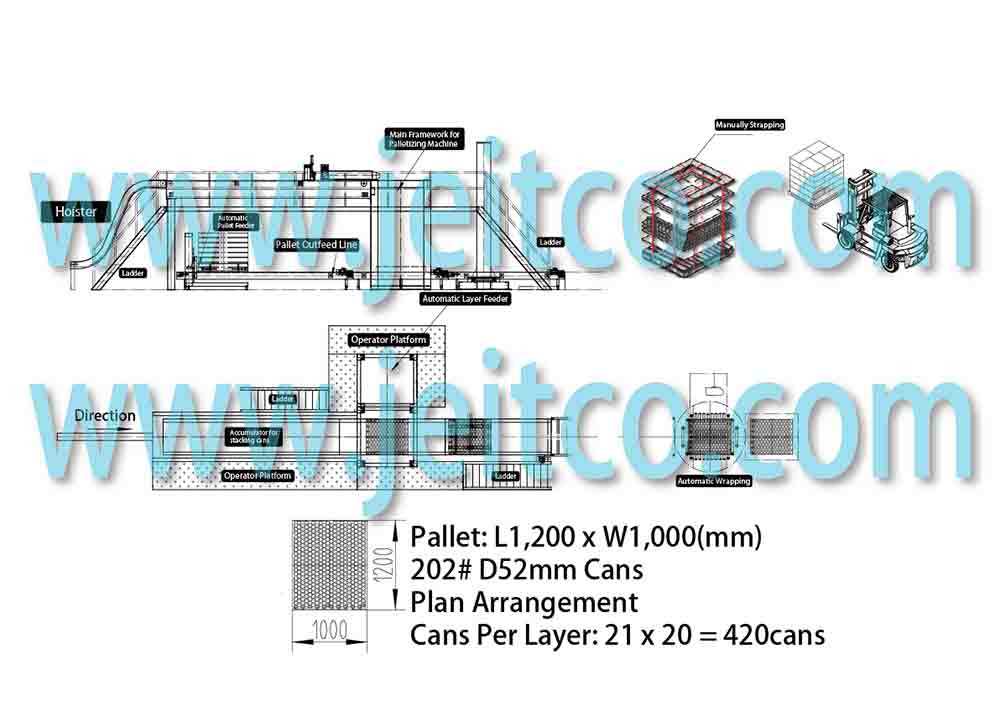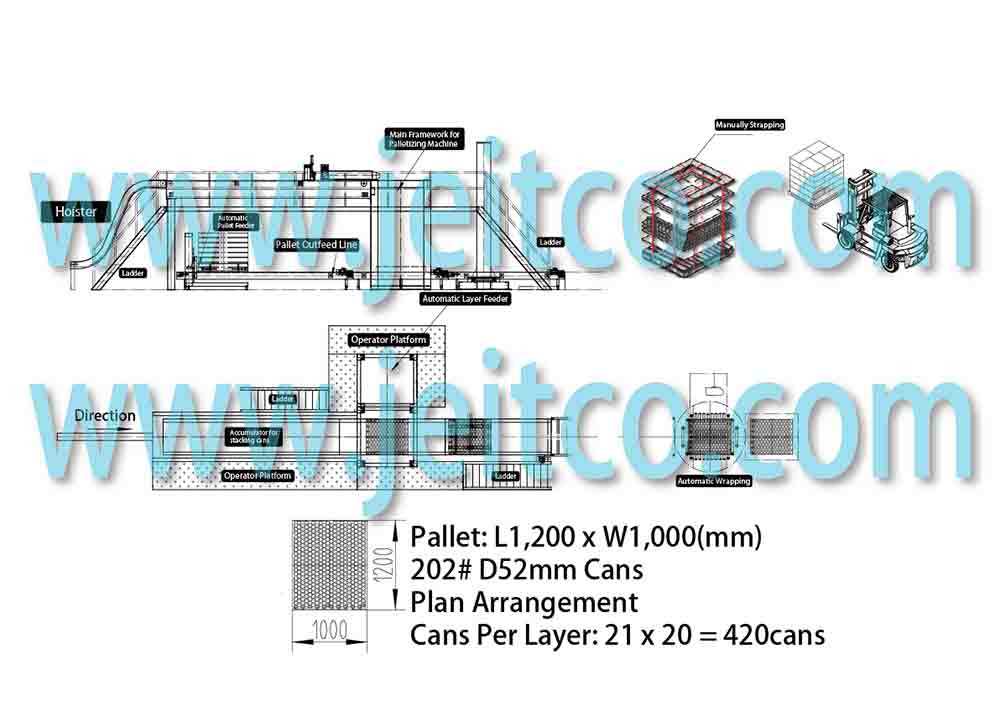 Model
HFPT
Operation
Automatic
Capacity
110-1,600cpm
(Pallet Size L1,200mm x W1,000mm)
Palletizing Type
Pushing & Elevating
Pallet Board Auto Feeder
Built-in
Programmed PLC Device
Built-in
Applicable Products
Various Metal Packing Container,
Plastic Container and Glass Container
Compressed Air
0.6MPa
Power Supply
Three Phase AC 380V 50Hz
Total Power
11kW
Interface
Touch Screen - HMI
Control
PLC Controller
Motor
Servo and Permanent Magnet Motor
Drive
Variable Frequency Inverter (VFD)
Conveyor
Scratch Free Chain Boards
Overall Dimension
L15,000 x W3,000 x H3,900(mm)
Machine Weight
4,000kg